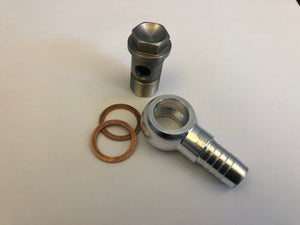 CNC-machined water fitting set for TiALSport IWG/H2O, water-cooled turbine housings.
These are for M18 water ports only, and will not work on NPT-style ports used on other housings. They can also be used on some turbo models for the bearing housings.
P/N Contents:
1- Union bolt. The union bolt is machined from 303SS.
1-"Banjo" fitting. The 'Banjo' fitting is machined from 6061AL. These are designed for 13mm or 1/2 internal diameter hose, to be used with spring-type or crimp-type clamps. 
2 Sealing washers. The sealing washers are copper.
EACH SET IS FOR ONE WATER PORT ONLY, AND INCLUDES ONLY THE QUANTITIES LISTED. YOU WILL NEED TO PURCHASE TWO PER TURBOCHARGER.