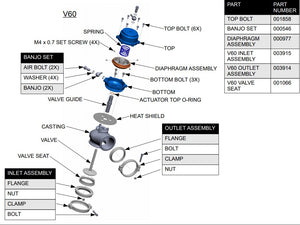 TiALSport actuator housings are machined, in-house, from 6061AL, then anodized for a durable, attractive finish. 
Typically, no replacement is ever necessary, but if a housing is damaged, a customer prefers to change colors, these are offered as service parts.
Housings are sold without any external hardware; none of the fittings or parts shown in the image are included with each housing.
If you are not sure if this is the correct item for your needs, please review the exploded view and parts list found on our technical website:
www.tialsport.com
As well, please feel free to contact our Technical Support staff at:
tech@tialsport.com